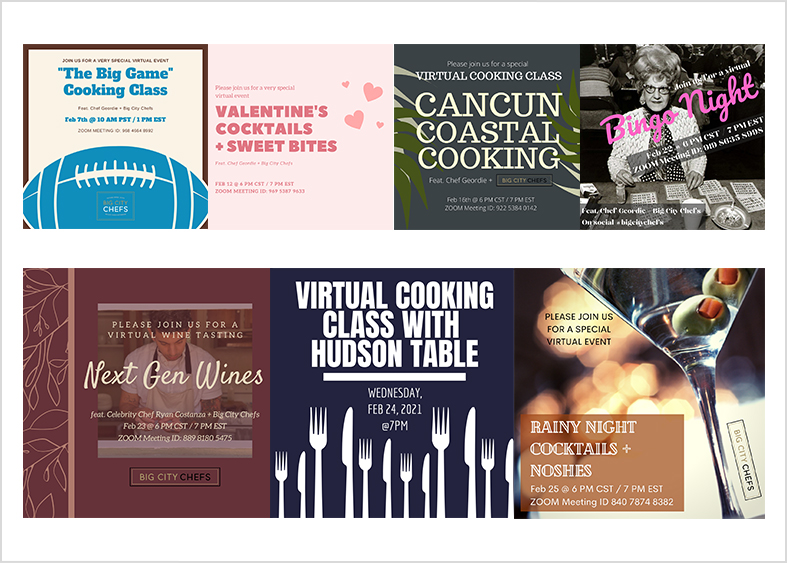 FEBRUARY 18, 2021
February's Resident Event Calendar Heats Up
The Cobalt Lofts team is back at it again with an exciting events calendar for February. Despite snow and freezing temperatures, they've kept our residents feeling the love.
Working with acclaimed area chefs, our residents' kitchens have already been heating up with events designed to hone their cooking skills and try new foods. Chef Geordie and Big City Chefs hosted "The Big Game" Cooking Class to help wrap up this year's football season. Chef Geordie again hosted a virtual class that transported residents straight to Cancun with a coastal cooking class. Residents will have another opportunity to make a very special dinner at home on February 24 with Hudson Table.
If selecting the wine pairing is your favorite part of dinner, then the Virtual Wine Tasting with Next Gen Wines is a must-attend. Learn about a special selection of wines from Celebrity Chef Ryan Costanza and Big City Chefs on February 23.
Additional events include a fun evening of virtual Bingo and Rainy Night Cocktails and Noshes.
Join the Cobalt Lofts community to take part in our robust resident event calendar each month. Contact us for more information about how to become a resident today.
February Events:
2/7 – "The Big Game" Cooking Class
2/12 – Valentine's Cocktails + Sweet Bites
2/16 – Cancun Coastal Cooking
2/22 – Bingo Night
2/23 – Next Gen Wines
2/24 – Virtual Cooking Class with Hudson Table
2/25 – Rainy Night Cocktails + Noshes