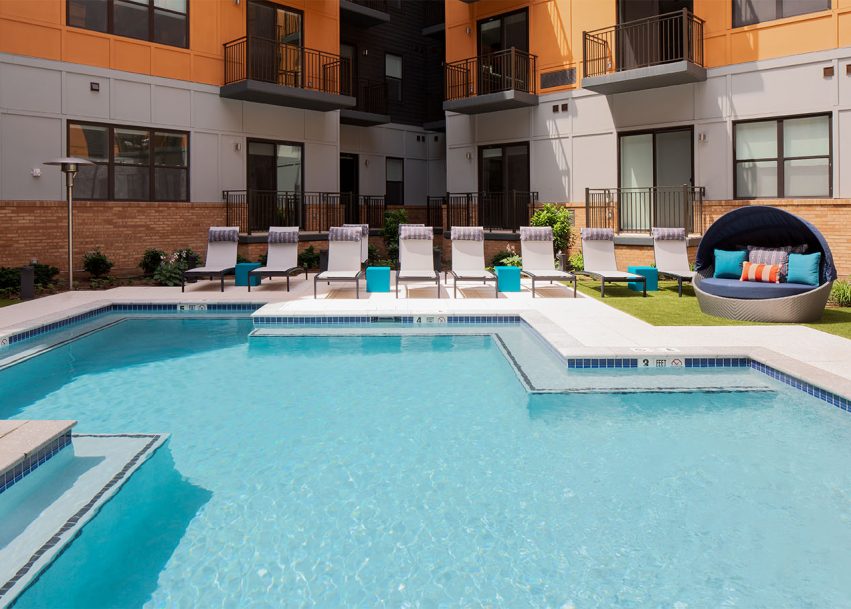 JUNE 13, 2022
The Energy's Heating Up at Cobalt Lofts
Warmer weather means it's time to head outside and enjoy Cobalt Lofts' summertime amenities. Top to bottom, we have something for everyone. 
Start by heading upstairs to a resident favorite unparalleled in the area, the Deep Sky Deck. This activated rooftop space has gorgeous skyline views without red ropes or long lines required to enter. Sunbathe during the day and count the stars by night. Or, celebrate the start of summer with a rooftop barbecue. The expansive outdoor kitchen with an attached bar area makes it easy to serve a few drinks while cooking up your favorite foods. 
Head downstairs to take a dip in the Aquamarine Pool. Have a swim or lounge poolside for a quick work-from-home escape or a lazy-day weekend. Bring along your favorite barbecue fixings to grill up poolside. If it's a little cool in your wet swimsuit, turn on the firepits near the dining table while you prep and dine.
When the temperatures dip in the evening, cozy up in Wildflower Way by the fireplace or relax with the sounds of the water feature for additional solace. Several seating areas and grilling stations mean you nearly always find a spot. Wildflower Way also features a green space complete with a movie screen. Join our outdoor movie nights for a fun way to meet your neighbors all summer long.
We haven't forgotten about our four-legged residents either! Bring them out to play in the warmer weather at Periwinkle Park, Cobalt Lofts' dedicated dog park. Stretch their legs with walks around the entire Riverbend District where you're likely to meet other proud paw-rents.
Stay tuned at Cobalt Lofts to see all the special events we have planned for the summer. If you're looking for a new home and want to learn more, please contact us today.