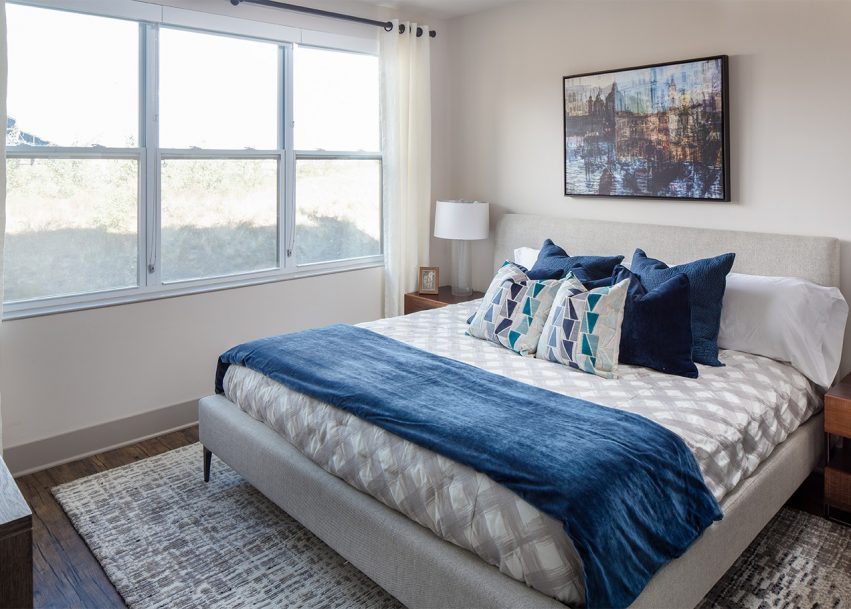 JANUARY 29, 2019
A Staycation at Cobalt Lofts
It is no secret that New Jersey gets a little chilly at this time of the year. When the skies darken and the glacial weather sweeps in, there will be times when all you want to do is hunker down in your luxury Harrison NJ apartment. There, surrounded by all the upmarket comforts you could ever require, you might happily while the entire winter away. At the very least, you'll want to spend a few snow days (even if it isn't snowing) snuggled up inside Cobalt Lofts. And in these Riverbend District rentals, you can do it in style.
Create Your Own Heat in the Fitness Studio
Nothing warms you up like a morning session in the Slate Fitness Studio. Ease yourself in with a few calming poses in the yoga studio, before moving onto the Peloton bikes. (Take our word for it, at this time of year, you want to be doing your cycling workouts indoors.) If you're hungry for more, go all out in the CrossFit room, where you can work up a sweat and burn off some serious calories. After all that activity, you may actually need to cool off a bit: Take a brisk, refreshing walk outside in the Riverbend District.
Knuckle Down to Work or Enjoy a Warming Weekend
What if the icy conditions prevent you from traveling into work? Oxford Labs is a flexible co-working space at Cobalt Lofts where you can flip open a laptop and knuckle down to the job at hand. Just don't get too used to it — otherwise you'll never want to go into the office again. If you're dodging the inclement weather in your Harrison, NJ, luxury rental during the weekend, well, you have a veritable entertainment district at your doorstep. Invite friends and neighbors to partake in a game of duckpin bowling, or even arrange a billiards tournament in the building's entertainment room, Indigo Alley.
Order In
Nothing in the fridge? Not to worry. Harrison has a multitude of quality dining establishments that deliver. Get some spicy pork tacos and kimchi fried rice from Mexican-Korean fusion restaurant Takorea, and enjoy it all in front of a classic movie in your loft-style rental. Or order Nino's Special Sicilian pizza, and share it with friends from your quartz kitchen countertop. Or, if you're in a particularly indulgent mood, order in from one of the many great Chinese restaurants in the area, and have a cozy feast on the sofa, under the duvet. Snow days don't come every day, after all.
To learn more about living at Cobalt Lofts, schedule an appointment today to visit the newest addition to The Riverbend District.