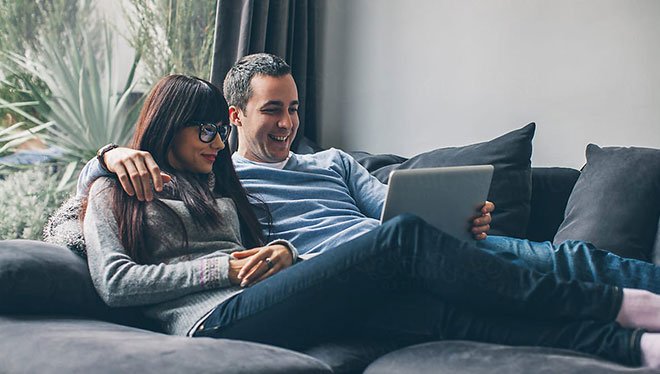 MARCH 13, 2019
Easier with Amazon at Cobalt Lofts
Sometimes there's just no way around it: life gets busy. Whether the culprit is a quickly approaching deadline or a busy social schedule, there are moments in life when there never seems to be enough time. When those days come, as they inevitably will, the key to thriving is seeking out—and embracing—whatever makes your life run smoothly. At Cobalt Lofts' rental apartments in Harrison, NJ, convenience abounds. Thanks to Amazon, convenience is seamlessly integrated into every facet of home life, allowing you to spend less time focused on chores and more time thinking about the things that matter.
There's no denying the fun in a little shopping spree, but sometimes we'd rather do it curled up on the couch, coffee in hand. When you move into Cobalt Lofts, you automatically receive one year of Amazon Prime. By now, you're probably familiar with the main idea behind Prime: free two-day shipping and, in some cases, free same-day delivery.
If you find that your pantry is a bit bare, you can take advantage of free two-hour delivery straight from Whole Foods via Amazon Prime Now. Even without extensive planning, you can throw together a fantastic meal at the last minute. Prime offers much more than just the speedy delivery of virtually any item you can dream of, however. With your free year of Prime, you get access to an almost endless supply of television shows and films through Prime Video. You can also listen to almost two million songs, ad-free, through Prime Music. Services like Prime Wardrobe and Prime Pantry allow you to refresh your kitchen and pantry with just a few clicks, right from the comfort of your luxury rental.
If you're an online shopping enthusiast, it's likely you're familiar with the struggle of managing the continuous arrival of packages at your doorstep or in your lobby. Did the package arrive on time? Is it secure? Has it been stolen or misplaced? Thanks to Amazon Hub, set up at Cobalt Lofts, you can leave these worries behind for good. The locker is equipped to receive packages of almost any size, and residents can retrieve them by punching in a secure code. Unlike Amazon Locker, which serves the public, the Hub is only accessible to residents of Cobalt Lofts. The Hub also accepts packages from senders other than Amazon, and it's available 24/7.
Perhaps the most innovative and convenient facet of life at Cobalt Lofts is its offering of Amazon Echo Dot smart-home technology. Using Alexa, you can control things like the thermostat, locks, and lights with just your voice. If you're away from home, you can make adjustments right from your smartphone. This means you'll never have to worry about leaving the lights on or the door unlocked if you leave home in a hurry. At first, the convenience of smart-home technology may surprise you, but because it's so seamlessly integrated, you'll eventually forget it's even there. That frees up some headspace for other endeavors, like exploring the rest of the amenities at Cobalt Lofts.
To learn more about the Easier with Amazon program at Cobalt Lofts, or to schedule your appointment to visit us, please visit our contact page!