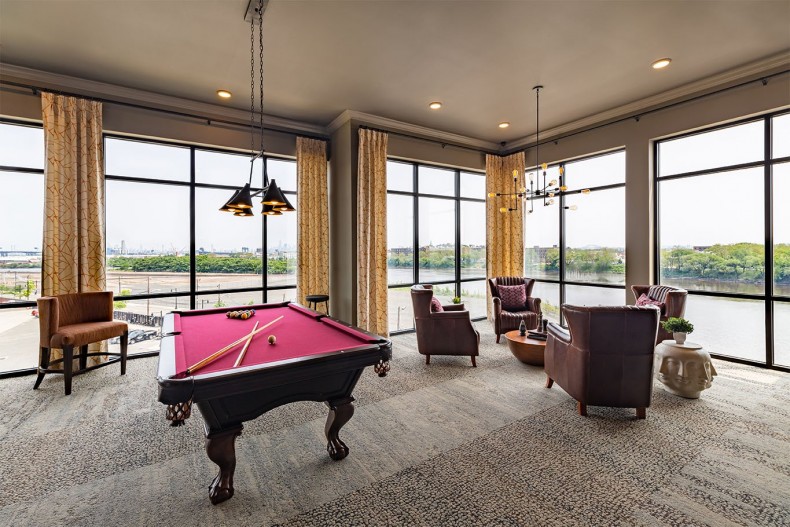 AUGUST 20, 2019
Indigo Alley: Where Game Night Is Always on Your Doorstep
There is a history of English gentlemen breaking after dinner to play a game in a well-appointed billiards room, a tradition from a place and time that seems like a fairy tale. And while great billiards places in Manhattan and Harrison itself are a short ride away, there is nothing that can compare to gathering your buddies in a game room right at home—where time constraints disappear, and you can feel as comfortable as the lord or lady of the manor in a dream fulfilled.
Imagine your own "billiards room" outfitted for the 21st century, and you will have a good sense of Indigo Alley, the on-site game room at Cobalt Lofts, where you can enjoy an impromptu game of pool or poker any night of the week. Or you can incorporate a monthly or weekly poker night with your pals into your social schedule. It's also a great place to bring a date for a flirtatious bit of competition that can be combined with other on-site amenities for a night to remember right where you live. This kind of extra attention to what makes life easier and more pleasurable is all a part of the vision behind these Harrison, NJ, luxury rentals.
Plan a whole night around Indigo Alley and the other amenities that make these Harrison, NJ, rentals a place not only to live but a place to thrive, and you will have a night of fun without leaving home. It's the perfect way to show a new friend that you are the consummate host, or the old crew that where you live is an always-available dimension of play and joy. Take a dip in the pool or eat dinner on the deck before your poker or billiards game, and you've created a multidimensional party on your home turf. Have food delivered from your nearby Whole Foods through Amazon Prime for a perfect spread of snacks and drinks to feed the card sharks and keep the fun alive into the early hours.
There's also something to be said for being able to sneak off day or night to Indigo Alley to take a few meditative practice shots at the billiards table for some "me" time that will relax you and help you up your game when your friends come by to share in the fun. Indigo Alley is also a great place to connect with neighbors and build community, something that will happen all over the building—at the pool, on the roof, and at the fitness room—but games particularly lend themselves to this kind of comradery. Indigo Alley is part of the spirit of comfort and luxurious convenience that makes Cobalt Lofts not just an address but a lifestyle where fun is built right in.
To explore all of the vibrant indoor and outdoor amenities at Cobalt Lofts, click here.