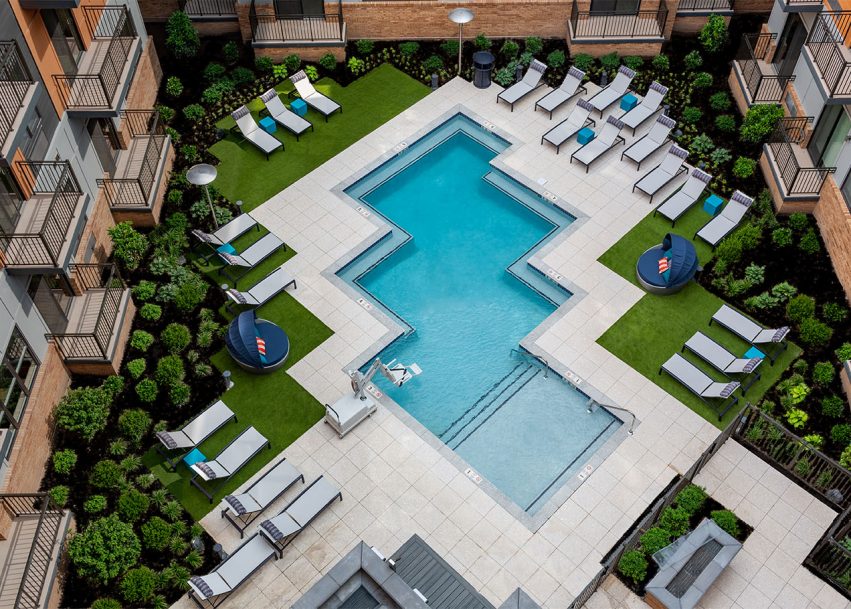 JUNE 25, 2019
Make A Splash this Summer
As the summer heats up, there's no better place to be than cooling off by the pool. A perfect spot for catching up with friends—or better yet, for a relaxing day alone—an outdoor pool just can't be beat. At the Harrison, NJ, apartments at Cobalt Lofts, you're invited to bring a book or your favorite float and soak up the sun's rays. This resort-style oasis with its surrounding sun deck is just the ticket for those lazy days of summer. Or if you're simply looking to get out but not go far, Cobalt Lofts makes it easy with a host of options right on the premises.
The pool, exclusive to residents of Cobalt Lofts, will quickly become the center of your summer fun. Forget about jockeying for a space at the public swimming hole: the Aquamarine Pool's terraced design puts more perimeter space around the pool, ensuring that there's plenty of poolside seating for you and your guests. Dangle your legs in the water while having a chat with a friend or jump right in for a refreshing lap or two. Bring the little ones and let them happily splash about in the one-foot section. Stretch out for a nap on one of the chaise lounges on the surrounding green or curl up in a cabana and lose yourself in a new beach read. Indulge in your own way and at your leisure. This pool has it all.
While we all love to chill poolside, some days it's the uplifting summer sunshine that we're craving. The Cobalt Lofts Deep Sky Deck offers just that. An activated rooftop with skyline views is a quiet place to while away an afternoon. Or you can invite a few people over and have a dinner party in the cool open air of a summer evening. An outdoor kitchen space makes it possible to cook your feast with minimum fuss and provides a base of operations for your favorite caterer for more ambitious parties.
In search of more outdoor activities? Head out to Wildflower Way, Cobalt Lofts' dedicated terrace. Wildflower Way will become your weekend destination as it plays host to many events throughout the season. While the seating areas are great for lounging, you'll love the programmed terrace with its movie screen. And when you're in a playful mood, take advantage of a number of available lawn games. For those with furry friends, Periwinkle Park offers a dedicated dog park for exercise and play.
Splash into your summer with your resort-like retreat at Cobalt Lofts in the Riverbend District, Harrison, NJ. Escape the heat in the soothing waters of the pool or entertain your crew on the Deep Sky Deck before a few games on Wildflower Way. Residents will find plenty of ways to make new summer memories with the Cobalt Lofts outdoor amenities.
Follow us on Instagram to keep up with all the summer fun at Cobalt Lofts!