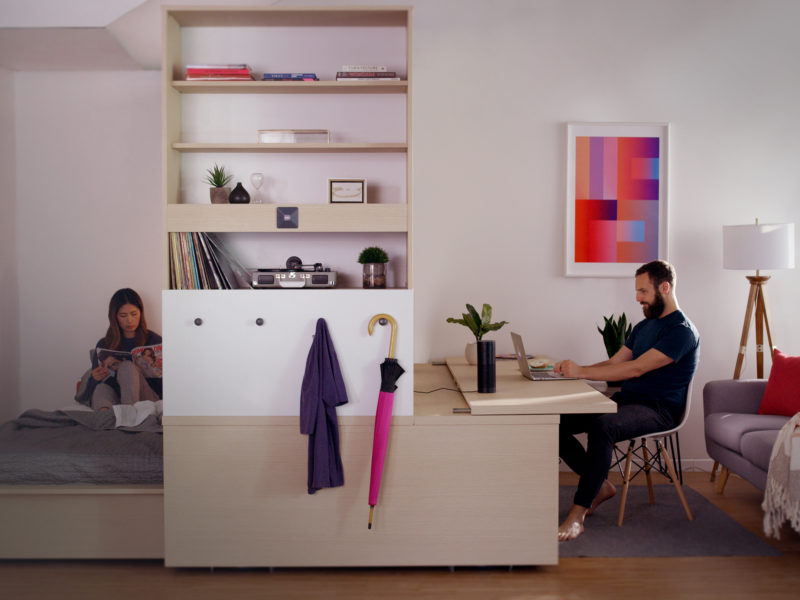 OCTOBER 11, 2019
High-Tech Furniture Comes to Cobalt Lofts with the Ori Studio Suite
Cobalt Lofts' luxury rentals are the smartest and most technologically advanced apartments on the market in Harrison today. From our Easier with Amazon partnership to our SmartThings HUB and thoughtful residential amenities, including on-site coworking spaces and a fully functional mail and package room, Cobalt Lofts is always dedicated to excellence when it comes to luxury home technology and facilities.
One of the new pieces of smart-home tech coming to select Cobalt Lofts homes is the Ori Studio Suite. This large robotic furniture module from the Boston-based tech company Ori is designed to expand options for residents of studio apartments, who often have to sacrifice storage and workspace for necessities like a bed. That's where the Studio Suite comes in: this all-in-one bureau, shelf, media cabinet, closet, and bed moves across the floor and transforms with the press of a button, changing the shape of the studio from a spacious bedroom to a large living room or office in less than a minute.
While the idea behind the Ori Studio Suite is straightforward, watching it in motion on the company's website demonstrates how many built-in alternatives this high-tech furniture adds to a studio apartment. How many studios have a walk-in closet, a semi-private bedroom, an office, and a living room? Ori provides each of these distinct living spaces without requiring additional square footage, all with either the push of a button or a tap of a screen, thanks to an integrated smartphone app. Plus, Ori's layouts make it a lifesaver when cohabitating in a small space, where finding a bit of privacy can make all the difference. For example, Ori's two-part layout creates a smaller bedroom and a useable desk or media cabinet with a wall separating the two, maximizing space and privacy for both areas.
Best of all, Ori Studio Suites are included in select residences at Cobalt Lofts as part of the building's holistic smart-home philosophy. Access to Ori in rental homes is still fairly uncommon, with Cobalt Lofts being one of just three residential buildings in the greater New York City area that offers Ori furniture, making this a rare opportunity to experience the apex of high-tech urban living. So, head over to Cobalt Lofts and secure your Ori-equipped smart home today!